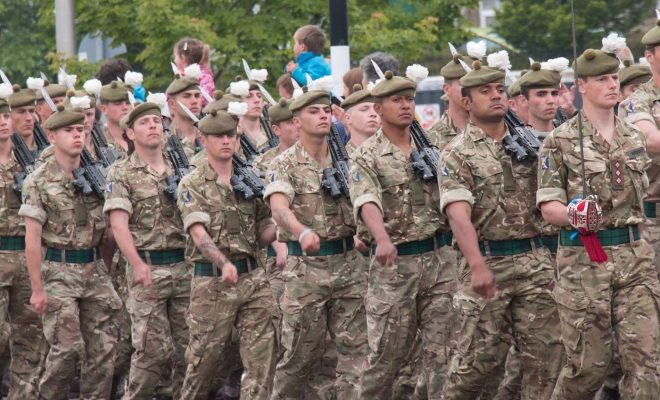 Soldiers from Penicuik's Glencorse Barracks will be welcomed home on Thursday 4 October by marching through the streets of the town.
At 11:30am on Thursday 4 October, soldiers from the 2nd Battalion, The Royal Regiment of Scotland, will parade through Penicuik to commemorate the end of their six month tour in Iraq, as well as their deployment in South Sudan and Cyprus.
Accompanied by the regimental mascot Corporal Cruachan IV, 2 SCOTS Pipes and Drums and the Band of the Royal Regiment of Scotland, the parade will lead off from Eastfield Drive turning onto Edinburgh Road, John Street and High Street before continuing onto West St and finishing at Broomhill Road. Lord Lieutenant for Midlothian Sir Robert M Clerk OBE will take the salute outside Penicuik Town Hall as the representative of Her Majesty the Queen.
2 SCOTS' tours in Iraq, South Sudan and Cyprus has seen the local battalion provide support and training to ground forces, enhancing the delivery of peace and stability in each region.
In a six month tour of Iraq, 2 SCOTS operated out of four locations where they provided training and mentoring to the Kurdish Security Forces, preparing them to lead operations against the terrorist group ISIS (Da'esh). This work was undertaken alongside service personnel from an array of international countries, including the US Army. The troops also found time to host two Burns' Nights in the Iraqi cities of Erbil and Taji, transporting the Scottish lowlands to the middle eastern country.
2 SCOTS deployment to South Sudan saw them provide security to the British Army Engineer Battlegroup assisting the United Nations' Mission in South Sudan. In Cyprus, they joined UN Troops in patrolling the green line, a demilitarised zone that separates Occupied Cyprus from the Republic of Cyprus.
The Second Battalion, the Royal Regiment of Scotland, last held a Homecoming parade in Penicuik in 2016.