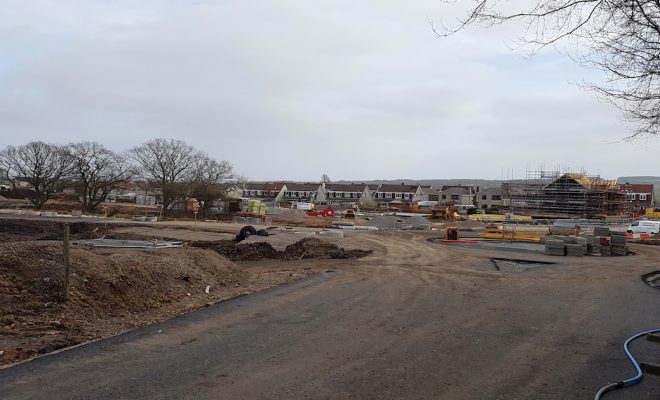 Residents have expressed their anger following Taylor Wimpey's announcement that Mauricewood Road is to remain closed until May.
The major thoroughfare in north Penicuik, which connects the A702 trunk route to the A701, has been closed since early January to allow for the construction of a roundabout into Wimpey's Greenlaw Mill housing development, causing significant upheaval for commuters and neighbouring residents alike.
However, the house builder and Midlothian Council have now announced that the disruption will continue until April 30 at the earliest, with the road remaining closed for a further four weeks. Should work have gone as planned, and as approved by the local authority, Mauricewood Road would have been reopening to traffic this Friday. Penicuik's commuters now face four more weeks of following a lengthy diversion via the pothole ridden Belwood Road.
In a statement issued to the Cuckoo, Taylor Wimpey fall short of apologising to the community, instead giving reassurances that they are working to resolve disputes with utility companies, who they say are holding up work on site. It is understood that Scottish Power and SGN have failed to stick to the approved timetable, prohibiting the final stages of the roundabout's construction.
Martyn Campbell, Production Director for Taylor Wimpey East Scotland said:
Our programme of work at Mauricewood Road has been extended because several service providers have been unable to complete their work within the agreed timescales set out for this project.

We are naturally keen to get our programme back on schedule as soon as possible, and we would like to take this opportunity to reassure the local community that we are doing all that we can to resolve matters.

We have escalated our concerns to a senior level within each of the organisations to whom we are wholly reliant on providing these services before our work can continue, and we are unable to provide an accurate update on the timescales for the completion of our work until we have clarity from each provider.
A letter has also been sent to residents neighbouring the construction site explaining the delay. However, there have been angry responses on social media to the council's update on the matter, with many questioning the real reasons behind the delay. Commenters said that the closure was working in favour of Taylor Wimpey, who have been using Mauricewood Road as a temporary car park during the fevered works to erect the first show homes.
Visits by the Cuckoo over the past fortnight has shown no progress on the roundabout.
What do you think? Let us know below or join the conversation on Twitter or Facebook.